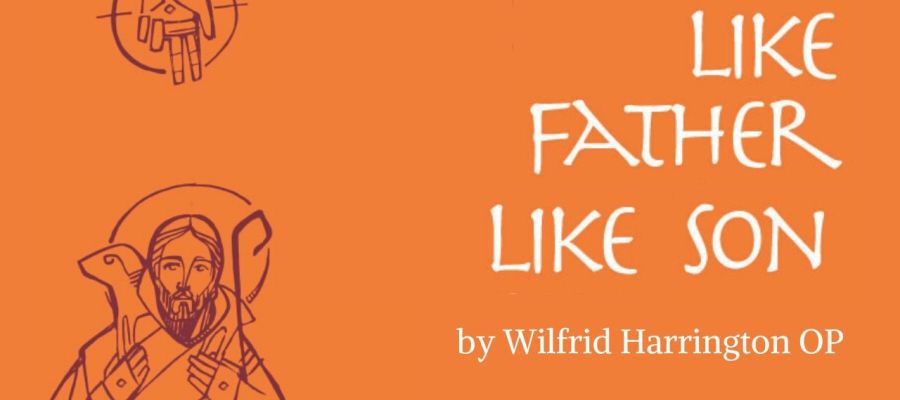 Posted By: Frances O'Loughlin
Posted On: Apr 27, 2020
The Priory Institute is pleased to announce that Wilfrid Harrington's new book is now available. Like Father, Like Son sets out to indicate how the Son, in his deeds and his teachings and in his death, gives human expression to the Father. And how the Father, by raising him from the dead, authenticates this revelation.
Like Father, Like Son
'Who sees me, sees the Father'
Wilfrid Harrington OP
The Bible presents us with a wondrously attractive and deeply comforting portrait of God. The early Church, in bringing to the non-Jewish world, the Good News that God himself was present in the man Jesus, put to death and risen from the grave, felt it necessary to call on the philosophical language of their day. But for most people today, such language is cold and distant. Wiser and better by far, Wilfrid Harrington argues, is to choose to live with mystery, and to accept that only God can understand how God can live in a human person. It is in the Bible that we will find a vivid and entrancing engagement with this mystery.
Wilfrid Harrington OP has made studying and teaching the Bible his life's work. He has taught in academic centres (the Dominican Studium, Dublin, the Milltown Institute, Trinity College, the Priory Institute and the Church of Ireland Theological College), in summer schools, especially in the USA, and with parish and adult-learning groups in Dublin and Newry. He is the author of over 50 books on the Bible, and is one of the founders of the quarterly Scripture in Church.
To mark his long association with the Priory Institute and even longer involvement with Dominican Publications, this new book, Like Father, Like Son, is available to the Priory Institute community at a special discount (33%), when they purchase on the website www.dominicanpublications.com
To avail of this offer, use the Discount Code PrIn0531WH, at checkout.
This offer is open until the end of May.
Price: €12.00
Click HERE to buy.
https://dominicanpublications.com/products/like-father-like-son