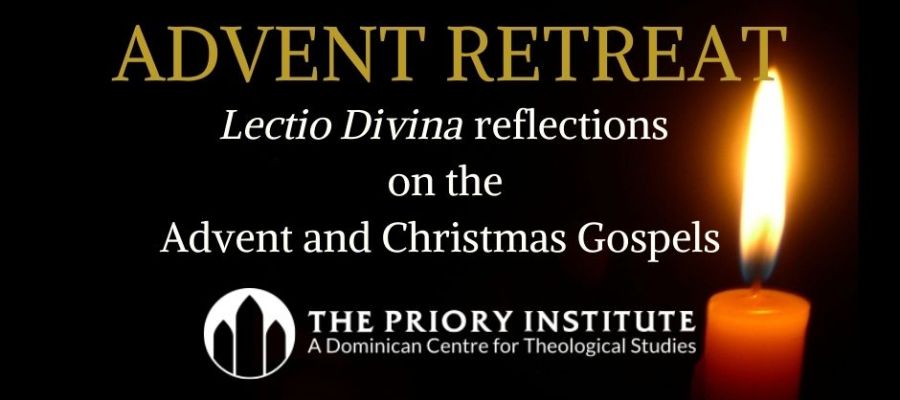 Online Advent Retreat - Free of Charge
The Priory Institute, Tallaght Village, D24
This year's retreat is a repeat of the popular Advent Retreat we offered in 2018. The presenters are expert practitioners and facilitators of the Lectio Divina method:
Joseph Ralph, OP is a member of the Dominican Community in Newry and Director of Lectio Divina centre attached to that community. He formed the first Lectio Divina community there in 2011. Along with others, he continues to form and develop a growing number of Lectio communities each year.
Kate Byrne is a retired teacher, married with three grown up children and 7 grandchildren. Kate has been a member of a Lectio community in St Catherine's for over 6 years and is vice chair of the Lectio Management Team in Dominican Lectio Divina centre in Newry. Kate works closely with Fr Joseph in preparing resource material for their Lectio Guides and co-ordinates meetings of the Dominican Coordinating Team (DCT)
Columba M. Toman, OP is a member of the Dominican Community in Dundalk and completed PhD studies at Queen's University Belfast. Ordained in 1999, fr Columba has been a practitioner of Lectio Divina for many years, particularly during his time as Chaplain at QUB. He is an experienced preacher and retreat giver.
Ann-Mary Redmond is currently a Priory Institute tutor for the MA in Biblical Studies, she participates in Lectio groups in English and Spanish. Ann-Mary has lived in Dublin most of her life and spent 14 years in Geneva working in international negotiations. While in Geneva she was active in various ecumenical groups and the local English-speaking RC parish, and obtained a certificate in pastoral ministry from Loyola Institute, New Orleans. She has also helped facilitate retreats in a number of countries.
Brendan Clifford, OP is a Dominican ministering in St. Mary's, Cork. He has been learning and teaching Lectio Divina for many years. His book on lectio is entitled The Word Seen and Touched: Lectio Divina and Human Experience. 
All videos will be available to view from the 27 November however a suggestion is to watch one video each week following the Sundays of the four weeks of Advent. Set aside about 35 minutes when you will not be disturbed while watching each video. Make it a prayerful time even before you start watching. Maybe light a candle and ensure you have a copy of the gospel passage so you can read it yourself. Stay in the atmosphere of the talk for a few minutes at the end.
The retreat is free of charge but donations are welcome.