What Our Students Say
Pat Crawley
Graduate
"I am now in my third year of study and it has been three years of exciting discoveries, new insights, amazing friends and colleagues and work."
When I was young I wanted to be like my Dad – a very smart man! Anyway, I grew up to be a student of mathematics (because I loved solving puzzles) and in many ways. My name is Pat Crawley, I live in Newry and I am 47 years old and I am still trying to solve puzzles, although now they are more than mathematical ones. What intrigues me are questions about life and all its mysteries. I would describe myself as an optimistic and struggling Catholic; definitely not holy, but respectful of my faith and keen to learn more. Whilst I think I am open-minded, I realise that it is also important to be critical…..not every idea is a good one!
When I retired, I found that I had more time and inclination to think about my life and what makes living important to me. Thoughts about creation and the fabulous complexity of nature, why we behave as we do, what comes after life and why we are gifted creatures with consciousness, intelligence and the ability to direct our own path through life, all led me to questions about God. As a thinking being, I feel obliged to at least address these questions with the full attention and rationality that I can manage and with at least as much effort as I expend on keeping up with the news.
When I heard about the Priory Institute's course on Theology I was interested but not sure it was what I wanted. Religious people used to scare me and I still suffer a little of that primal fear. Anyway, what convinced me was meeting and chatting with two Dominicans and extremely down to earth people. I decided, to give it a try.
It has been years of exciting discoveries, new insights, amazing friends and colleagues and work. I am tempted to say hard work or steady work but neither of those terms describe my style of study…. I am more like a car with dirty petrol – bursts of speed followed by periods of chugging along. The tutors I have been privileged to have met have been passionate and expert; one a deeply caring and sensitive man, one a lovely and incisive woman who teaches her subject with love and humour. Another, a man of knowledge and Wildean wit who challenges his students to explore the world of ideas with discrimination and critical attention from the lofty heights of a bar-room stool!
I have rambled on a bit, but, before I leave you I would encourage you to come and try it if you have any interest in exploring the meaning of life. You will find the whole ethos of the institute to be one of encouragement, caring and unstinting help with your studies and great craic.
P.S. There is one total lie I have told in this script – see if you can find it!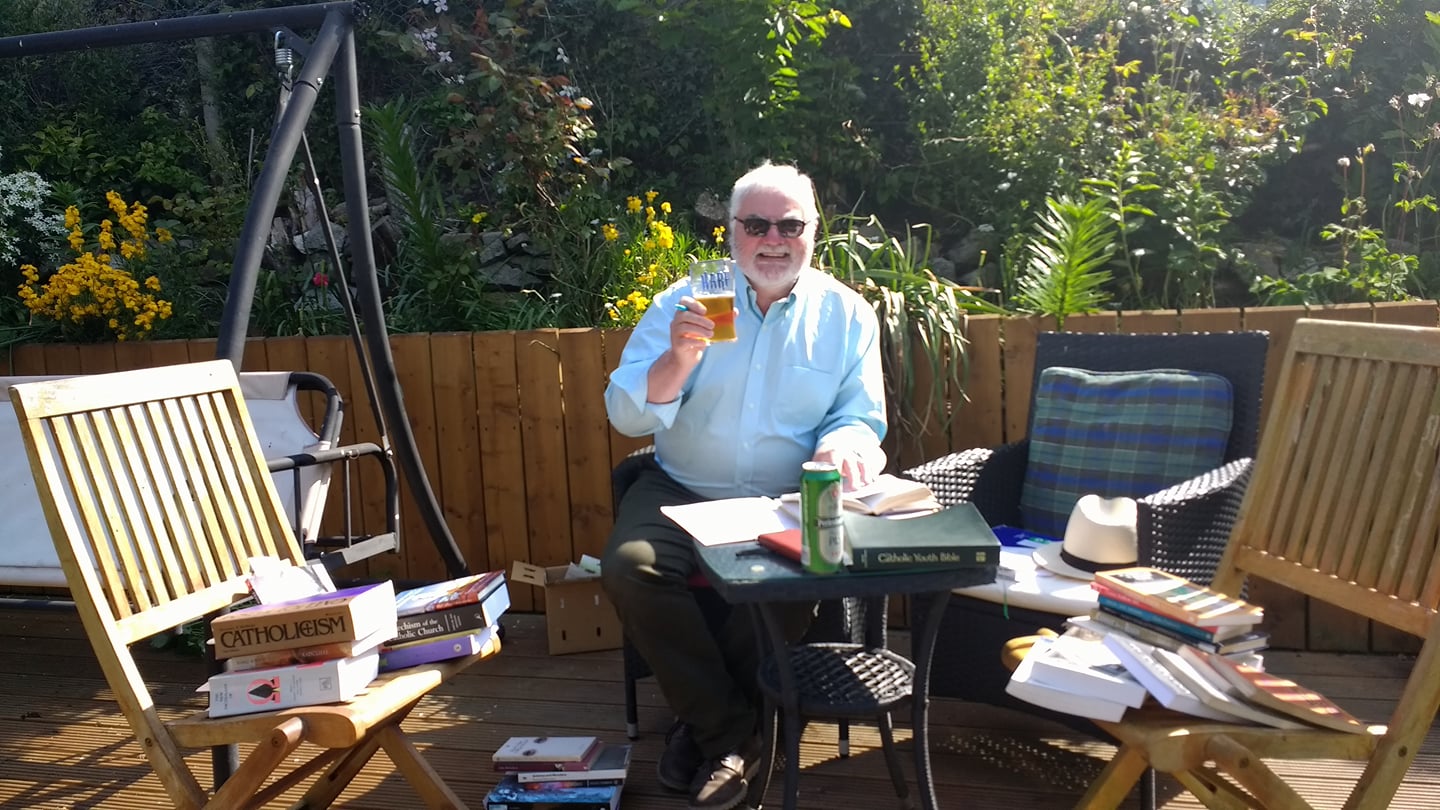 Tip for new students- try your best to get the work done - no matter what the weather is like!